I was riding my bike south on the Neal Smith Trail to the Downtown Farmer's Market when I looked over at the river and saw a single sculler rowing upstream.
I want to do that, I thought.
So, I contacted Des Moines Rowing and they taught me how to row.
That bike ride changed my recreational life. Sounds dramatic, but it's true. Rowing has been one of the very best things I've taken on in my adult life. Lessons learned on the water seep into every aspect of my life. Things I already thought I possessed — character, dependability, sportsmanship, commitment, coachability, loyalty, confidence — are greatly enhanced by the crew experience. For young rowers, the crew boat is crucial for developing these traits. It requires so much from you, individually, while simultaneously demanding the ultimate in teamwork. It engages every muscle in your body, while also demanding attention and focus from your mind. And you get to do it all on the fabulous Des Moines River!

A Lifelong Endeavor
It's an ever-changing river, but it is always beautiful. It's fabulous in spring, when everything is beginning to come to life again, and it's fantastic in summer, when we share it with so many other enthusiasts — fishermen, boaters, skiers, paddlers. It's breathtaking in fall when the foliage turns into a glorious array of color and we hold our annual regatta, and it's even lovely in winter as we count the days until spring and our first chilly outing of the new season.
When I started rowing, I was shocked at how few people knew Des Moines had a rowing club. One of the oldest sports in history has also been one of the best kept secrets in cities across the country. However, word is getting out as rowing grows in popularity. In addition to the physical and character-building benefits, rowing is truly a lifelong endeavor. Young people who participate in rowing have scholarship opportunities available, should they wish to row in college. Girls who row in high school have a 55% chance of securing some financial assistance to row in college. For boys, the odds are 18%. Those who come to rowing as adults enjoy the challenge of a non-impact, full body workout. Rowers of all ages make friends for life in crew mates and club members. Rowers quickly realize the myriad benefits and translate them into amazing opportunities.
Inclusion Within the Rowing Community
Recovery on Water, an organization founded by a breast cancer survivor and a high school rowing coach, parlayed rowing into a group therapy vehicle for breast cancer patients and survivors. Seeing these women participate in regattas is inspiring beyond words. Row New York was founded by a former collegiate rower to introduce youth from all walks of life to the benefits of rowing because she strongly believed it would position them for better futures. The success stories from this program have been amazing. Para-Rowing has been growing all over the world — at the national level and the club level. At Des Moines Rowing, we offer our Accessible Membership Initiative to members of our community with spinal cord injuries, vision impairment and PTSD. We are committed to growing this program as its early success has been very encouraging and inspiring. Our national governing body, USRowing, recently set up a Diversity, Equity and Inclusion Resource Center to serve all member clubs across the nation. At Des Moines Rowing, we've long shared these values and look forward to serving more community members every year. There's never been a better time to learn a new skill, develop lasting relationships and enjoy the beauty of our fabulous river!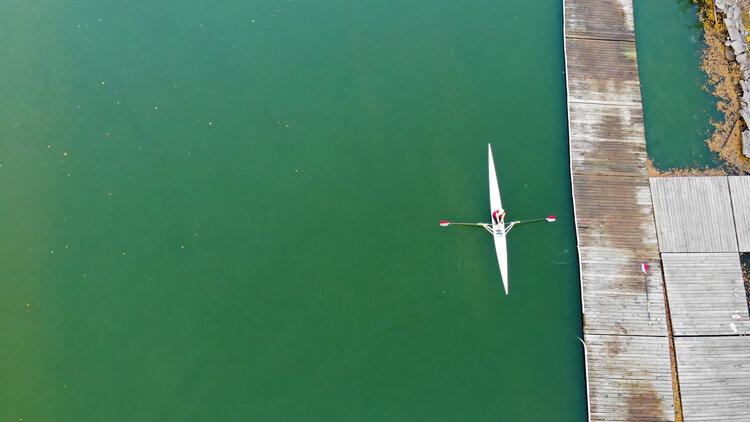 Author: Saundra Weston, Des Moines Rowing (DMR) Club.
Saundra began rowing eight years ago. She has served on DMR Board of Directors as Membership & Social Director and has raced several Midwest regattas and multiple sprint regattas in SW Florida. Saundra is a youth rowing coach (USRowing certified) at Cape Coral Rowing Club in SWFL since 2018.