I remember the first time I visited the High Trestle Trail Bridge. I went to see the artistic, spiraling steel cribs but left even more inspired by the Des Moines River valley below.
Before the blue lights lit up the bridge that night, I was illuminated by a snaking river through a vast and lush, green valley. It was a postcard I had to paddle into.
While the beauty of the river simply called me to get out on it, I've found, through some of the documentaries I've directed, that moving water has the power to move people to big ideas too.
In the documentary short, Time and the River, you're taken to the historic North Branch Outing Club on the banks of Michigan's famous fly-fishing river, the Au Sable, where Thomas Edison and Ernest Hemingway once stayed and fished for trout and grayling.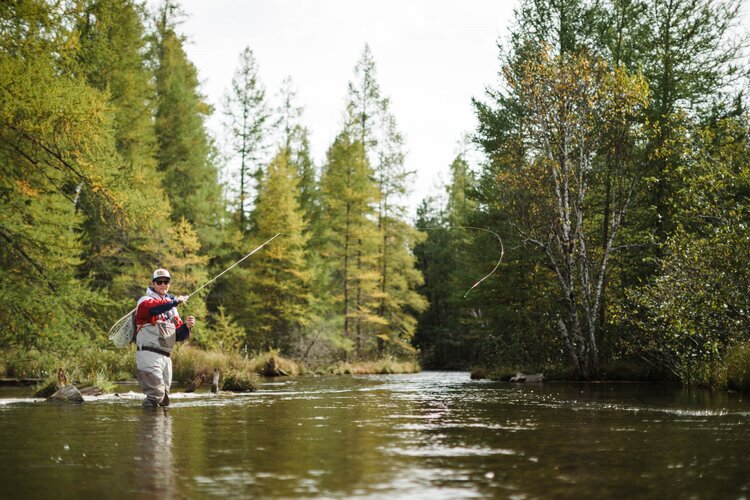 There, you meet Cole and his father, John. Over the years, they've bonded through days spent fly fishing the river and nights spent marveling over the legends who laid their head at the lodge.
Not only has this place been a canvas for creating priceless father-son memories, but also a catalyst for Cole's career path (Fisheries and Wildlife).
And, most important of all, Cole has been inspired to pass on the gift – fly fishing (so much more than that) – his father gave him.
Perhaps none of this unfolds without the vision of T.E. Douglas, who started the lodge in 1916 after his lumber business declined.
Douglas saw the river as more than a way to transport logs. He saw its value as an escape for sportsmen and leaves a legacy on the banks of the Au Sable that is still connecting people to the water and each other.
Central Iowa Water Trails is one of those rare, big ideas that, like a mighty river, has the power to change course.
The North Branch Outing Club is one place, just one access point to water, yet it has connected and affected people for a century.
The Central Iowa Water Trails will have 86 access points. Imagine the impact.
In the mini-doc, Canoe There Portages to Stone Harbor Wilderness Supply, Stone Harbor founder, Jack Stone, is moved by a spot on Minnesota's Fall River where a waterfall spills into Lake Superior.
"If you're a church-going person, you don't have to go to church for months because that is a spiritual experience," said Stone.
This spot inspired the name of his canoe distributing company, Fall River Trading, which ultimately led to Stone Harbor, a Grand Marais, MN, outfitter that connects people to the water through guided paddling and fishing trips and gear sales.
Think of all the inspiration that could pour out of Central Iowa's over 150 miles of water trails.
These stories are just a ripple of what's possible with moving water. The Central Iowa Water Trails is a wave.
Just think of the economic impact: the business potential, the talent attraction, the tourism.
Think of the quality of life: the access points to nature, an escape in our own backyard, a place we can all come together.
What a beautiful, transformational confluence.
About the Author: Ryan Borts is a producer/director at Canoe There. He prefers to paddle-travel and has since high school when he and a friend were unofficial Skunk River guides. Ryan's always on the lookout for new adventures, which typically revolve around paddling, summit hikes, fly fishing, and disc golf. Find more about Canoe There at @canoe_there, on Facebook or at canoethere.com.