Center Street
You won't need to leave the city to find high-energy adventures in and along the water. They'll be waiting for you at Center Street, located in the heart of downtown Des Moines.
Improvements
One sheer drop will be turned into four small drops, creating a safer whitewater experience for surfers, rafters and kayakers. Adding the whitewater park will also decrease flooding while preserving fish habitat.
Other activities will include:
Ziplining
Rock climbing
Skateboarding
Scott Avenue
Reconnect with nature without taking a step outside the city. You'll have easy access to the water, prime fishing spots and catching a glimpse of local wildlife at the Scott Avenue site, near Principal Park. You can view a video rendering of the future site here.
Improvements
The Des Moines and Raccoon Rivers meet here, which makes it ideal for restoring natural habitats. Improvements include the addition of in-water recreation, fish cleaning stations, improved fish passages and fish habitats, an expanded trail system throughout the park and an educational plaza. Watch a live feed of the construction site here.
Fleur Drive
Learn and play at your own pace at the Fleur Drive site, near Gray's Lake. This access point will be a safe space for adults and children to experience the water as they best see fit.
Improvements
Improvements near Hubbell's Gray's Station development will feature beginner-friendly whitewater activities. Children and adults can learn surfing and kayaking at their own comfort level, without having to face more intense waters at Center Street.
At this site, all ages can swim and relax in the water.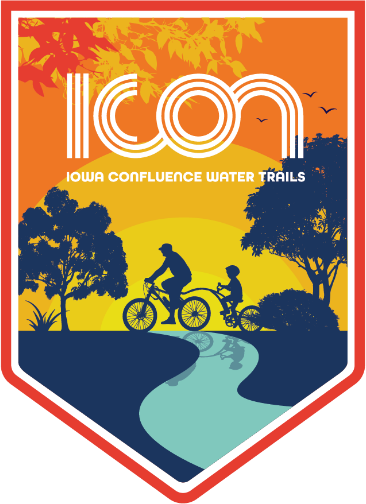 We need your help to make our vision a reality
The $125 million ICON Water Trails project is funded by local municipalities, the state and the federal government. Most important, it's funded by generous people like you. Be a part of bridging the gap and creating a legacy for generations to come.
Donate Now